Get a Fresh Start on Health and Weight Loss
Fresh Start: Group Coaching for Individual Goals. 
In my 30 years as a Dietitian and Personal Fitness Trainer one of the things I've learned from you, my clients, is that you know what you need to do in order to lose weight. I always ask "what is the one habit you need to change first?" I get answers like cut down on wine, dessert, bread and pasta, sweets, or snacking. I've also learned that you know what strategies work best for you. A new diet or a new gimmick rarely works in the long run.
I run a group coaching class for weight loss. Coaching puts you in charge to make the changes you most want to make, and coaching lets you decide how to make those changes. Coaching gives you ownership, and if you own it, you're more likely to succeed.
As your diet coach I provide structure and accountability. I make sure you're not being too hard or too easy on yourself. If your goals are too big you will fail to make the habit changes that you need to make. It's better to start with smaller goals and celebrate small victories, then move on to bigger things. The small group setting adds camaraderie, and shared ideas and experience. 
Fresh Start includes weekly habit change goals, and homework that brings out your motivation to give you the positive outlook you need for lasting habit changes. Fresh Start also provides you with simple and effective dietary guidelines and recipes if you need them.
All sessions are conducted online by the author of the program John Hoeber, Registered Dietitian and Personal Trainer with 35 years of experience – voted Best of Marin in both the Personal Trainer and Nutritionist categories.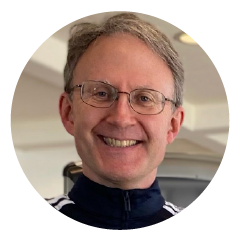 Next Class Begins in September and include:
Workbook with detailed instructions, education and homework

One 45-minute group coaching session per week for 12 weeks

Tuesday at 2:00 pm, beginning September 19th
or
Wednesday at 7:00 pm, beginning September 20th
All for only $99 per month for 3 months
50% off for Body Kinetics members – only $49 per month
Go to the class schedule at Bodykinetics.com to register, or contact John Hoeber at john@bodykinetics.com